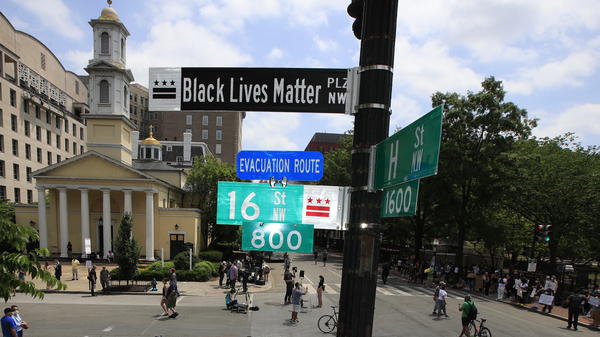 This has been an incredibly emotional and painful week. I've spent most of it talking to as many people as I can to get first-hand, honest input about the black experience, while also doing my best to demonstrate compassion during what has truly been a horrifying experience. Our players have perfectly captured the outrage, anger, and sorrow that we all feel after the latest racially charged atrocities that include the despicable murders of unarmed, innocent black Americans like George Floyd, Breonna Taylor, and Ahmaud Arbery. In no uncertain terms, it is important that you know that our company, Monumental Sports & Entertainment, and the Leonsis family stand against racism, prejudice, discrimination, and police brutality. We stand with you in our demands for justice because Black Lives Matter!
Even though we are involved with organizations that have been on the right side of these issues for many years, I still didn't understand the true depth of pain and outrage the way that I am learning this week. I've tweeted and posted my support for our players, employees, and the Black Lives Matter movement for more than a week now, but have been most inspired by the protesters who are peacefully marching just inches away from heavily armed forces, all while happening during a national pandemic. If we ever needed something that demonstrates how much Black Lives Matter, this is it. And it's not just in our community in Washington D.C., or even just around the rest of our country – it is now a worldwide phenomenon and rightfully so. Black Lives Matter, and we are all learning that what we have done to date is not nearly enough. I am grateful to our players, staff, and employees for being honest with me. I am also particularly proud of players like Bradley Beal, John Wall, Natasha Cloud, Braden Holtby, Maurice Delaney, and many more for their honesty, integrity, philanthropy, and truth-telling. I'm also thankful to some of our executives who felt secure enough in our relationship that they could weep in front of me while sharing their own stories. These moments were powerful ones. We are diving deeply into these issues with earnest intent, and will continue to do so in the future. We as an organization understand that systemic racism is a problem that is hundreds of years old, and that the solution will require even longer-term action. This is not a time for empty promises. We expect to be held accountable. We have a series of meetings on what to do next, and I will report back to our players and our employees on what we're learning, and more importantly, what we will do.
Peaceful demonstrations are righteous and vital to our democracy. No other city in the world witnesses people exercising this right more consistently than Washington D.C. I believe the impact will be long-lasting, just like the newly named Black Lives Matter Plaza located nearby The White House. In moments like these, I really do believe we are in this together!