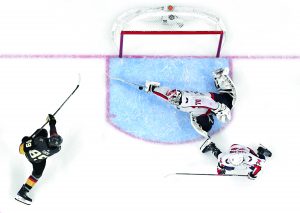 Thank you, Braden. From South Carolina to Hershey to D.C. and beyond, you have played a vital role in the Capitals organization. On and off the ice, you led by example for more than a decade. In the locker room, on the ice, in the community – your presence, talent and commitment were admirable.
I will forever be in awe of and grateful for the skill you brought to the Washington Capitals over the past 12 years. 'The Save' you made in Game 2 of the 2018 Stanley Cup finals is among the most important moments in team history. The way you led us during the playoffs and in those final moments in Game 5 are forever etched into my memory and the memory of so many fans. We have been blessed as both a team and fanbase to have your leadership in net, for the way you backstopped our team to wins at Capital One Arena and in cities all across North America. We are also so proud of the way you represented the Capitals at the numerous All-Star Games and NHL events that your talents took you to over the years.
Equally significant, the impact you and Brandi have had on the community over the last several years is unparalleled. You walked the streets of D.C. in support of the LGBTQ community. You tremendously used your voice in support of racial equality. You opened your world to Wish kids like Braden Nienaber and Caleb Graham. Through So Kids Can, you've supported the health and wellness of numerous children across the D.C. region. You and your family dedicated yourselves, your time and your efforts to the D.C. region in numerous ways that make you and your legacy an important testament toward the power athletes have to transform their community.
On and off the ice, you dedicated yourself to the Capitals, the fanbase and the community in ways that touched us all, and I wish you and your family the best.
Thank you, Braden. You will always be a Washington Capital.